I had an amazing few weeks at the 'Celtic Connections' traditional music festival here in Glasgow. It's massive - with workshops, concerts, clubs, a multitude of venues...more, for 3 weeks. Met many other photographers, felt overwhelmed, and had much fun. Some amazing singers, poets, artists, musicians from all over the world. Been busy editing my Celtic photos.
One of the world's biggest traditional folk festivals, Celtic Connections is in it's 13th year, and attracts musicians and visitors worldwide. It is jammed full of outstanding musicians and singers. The opening concert at the Royal Concert Hall is a showcase for the artists. It is good to see the many young artists excited to be playing here. The festival embraces many musical styles - bluegrass, country, classical, Blues, jazz, Celtic, world and more. Artists range from Scottish traditional singer Dick Gaughan (a Scottish legend) to 90s band Teenage Fanclub.

I enjoyed some younger artists also.
In particular Kirsty McGee Hobopop Collective who were supporting Capercaille – a new band with Mat Martin and the bluesy rhythms of Nick Blacka on double bass and tight with Rob Turner on drums. They do a mix of laid back jazz-infused acoustic tunes. I had no idea this was their debut gig, but I felt an energy and excitement and got some top photos. They had Karine Polwart, Inge and Annie all singing backing vocals on their last few songs, impressive! (Photos never lie!) They are a live project around Kirsty's Songs, check them out. The festival also focuses on traditional folk and new Scottish talent, with Showcase Scotland which is held over five days.
Favourite artists for me were (this isn't easy after hearing so many!) - the fun Scottish ceilidh band Session A9 who got the dance floor hopping;

Joan Osbourne from the US rich vocals; Karen Mathieson's haunting Gaelic voice; the top band at the TransAtlantic Sessions; the excitement of the Common Ground concert; Kristy McGee and Mat Martin Hobopo Collective (impressed with this new band's debut gig re my photos).
Sold out events included – Steve Earle, KD Lang, Teenage Fanclub, Peatbog Faueries, Capercaille, Dick Gaughan's 60th.
I had a wonderful time at the Celtic Connections festival and I saw many quality artists. Some artists do one or two reasonable songs and then struggle to produce anything nearly as good for years and years. What matters here is having momentum rather than consistency. A few singers have voices that make you sit up and notice, that grab you deep inside.'

Over 19 days, more than 300 events, 14 venues, over 1,000 artists.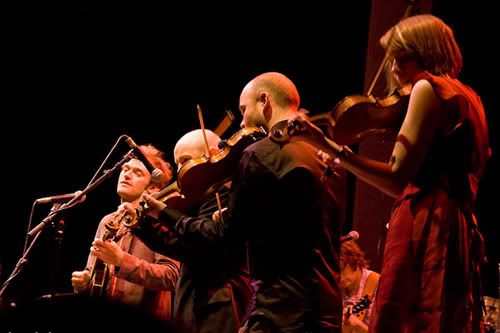 Celtic Connections Opening Concert "Common Ground", Glasgow Royal Concert Hall, Main Auditorium 2008 and with festival artistic director Donald Shaw on piano. The 17 piece band took over the main stage to open the 15th annual celebration of folk, roots and traditional music - and a showcase for young Scots and Irish folk musicians.
Singers performed songs with American Chris Thile on mandolin who performed with plenty of character. Scots singers were,

Karine Polwart, Kris Drever from the Orkneys, Mike Scott (The Waterboys), Julie Fowlis, James Mackintosh and Ewen Vernal. Karine Polwart, with her clear beautiful voice sang a traditional air.

Also Irish performers - Heidi Tolboot, Sharon Shannon, Luka Bloom, Damien Dempsey, Karan Casey, Michael McGoldrick and Jim Murray. Karan Casey sang unaccompanied and beautiful harmonies with Julie Foulis. She sang 'Washed up on a Distant Shore'.
By contrast Damien Dempsey was a big guy with a booming voice over the packed audience.
Irish singers have a grounding introducing their songs with quick wit down at their local pubs!
Kate Rusby sang John Barberry and High on the hill - she has a still presence and a clear stirring voice. For their encore the band, led by violinist John McCusker, performed 'Will Ye No Come Back Again' to an Irish Air.
There were perhaps too many reels for an audience bound to sit in their seats! There was plenty of vivid colours to entertain, from the deep reds to the moving blues. It was fun to see so many artists perform on the one stage in this casual, well rehearsed jam session, and it was clear how much of music, or any art, is about the 'personality'.