JERRY DOUGLAS
I was pleased to see both Cherryholmes and dubro player Jerry Douglas and his band at their Old Fruitmarket gig. After so many Scottish performances it was fun to see and hear the exuberant energy, fearlessness and joy of the road that I hear in American music.
Douglas had several award winning musicians with his band - Luke Bulla on the fiddle, who played with an energetic and fun style; Guthrie Trapp on dynamic and energetic guitar and bassist /composer Victor Krauss on electric cello who all perfectly complimented Jerry's highly accomplished and engrossing musical style.
I first noted Jerry Douglas backing singer Allison Krauss and thought what an awesome band she had backing her. Jerry plays with total skill and ease producing an entertaining and fun set. Well worth reading his Bio too, a great read!
*THE TRANSATLANTIC SESSIONS
Celtic Connections festival finishes each year with the Transatlantic Sessions and bringing the songs back home. The theme was about how the Scots and Irish took their songs over to the US and how the songs came back home again.
The festival always ends with these two sold out concerts. Scottish fiddler Aly Bain and slide guitarist Jerry Douglas invite their friends to join them on stage. The concert included singers from the USA such as the powerful talents of
Nancy Griffith, Dan Tyminski, Kathie Mattau
- and from Scotland the clear perfect voices of
Eddi Reader and Julie Fowlis
, The cast of top musicians performed songs such as Hey Joe and Dylan's Man of Constant Sorrow. We are reminded of the strong ties between America and Scotland.
Kathie Mattaau
performed
John Martyn's
'May You Never' as a tribute to him. John died on January 29th. One of Glasgow's great sons - Martyn performed with both Kathie and
Jerry Douglas
at the first ever Transatlantic Sessions back in 1995.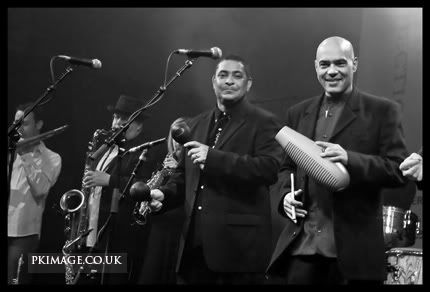 SALSAS CELTICA
Provided a fun party sound. This band work in pairs with a great deal of synergy and energy and ran seamlessly through their set. Many were dancing and I enjoyed their gig enormously.
Julie Fowlis and Kath McInnes joined them on stage for several numbers. On the left were the rich brass section behind the fun rhythms and on the right the emotive Celtic sounds (fiddle, banjo, accordion, pipes) while in front were the two colourful lead singers who danced in perfect rhythm together. There was lots of colour and they blew those winter chills away with their hot, hot sound! The unique combination of sounds works. They clearly enjoyed themselves and had great rapport with the audience. There was movement, vibrant colour, smooth rhythm and positive energy. They finished the gig with a rumba conga line through the audience. We could have partied all night!